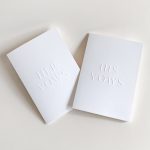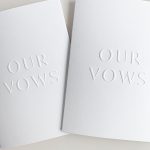 Vow Books
From €35,00
These vow books are made by hand and made of 100% soft cotton paper. The inserts are bound with a subtle white elastic so it's easy to remove/add inserts.
What you'll get:
• Set of 2 Vow books in a keepsake box
• Embossed "HIS VOWS" and "HER VOWS"; also available in "OUR VOWS"
• Cover 111lb (300grams)  premium cotton paper
• Measurements: Open 21×14,8cm / Closed 10,5 x 14,8cm (4.13 x 5.83inch)
• 6 inserts (12 pages) 60lb (90 grams) Lined
• Bound with subtle white elastic
✎ Personalization
You can personalize your vow booklets with digital printing on the backside with your name(s) and wedding date. Text will be printed in same font as the front side in dark grey.